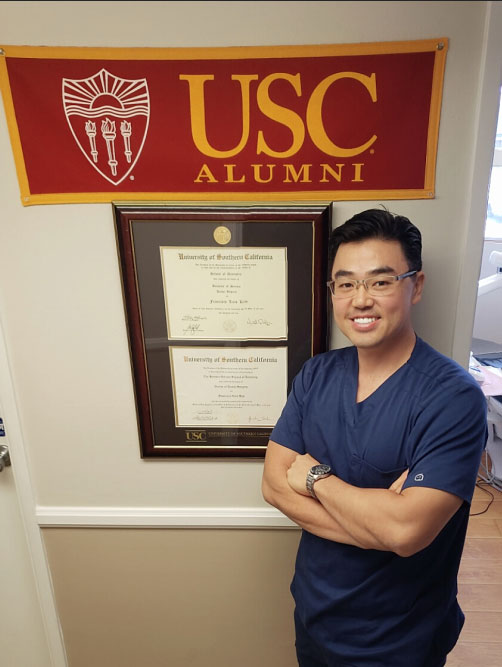 Francisco L. Kim, DDS
Dr. Francisco Kim was born and raised in Buenos Aires, Argentina. He moved to the US at the age of 17 and earned a Bachelor of Science degree in dental hygiene at the USC School of Dentistry. After practicing for several years as a dental hygienist, Dr. Kim went back to USC School of Dentistry and graduated with his Doctor of Dental Surgery degree.
With over ten years of experience in the dental field, Dr. Kim has the skill and knowledge you need for quality results. His background in dental hygiene also adds a unique level of experience and expertise not found among other general dentists. Dr. Kim is dedicated to helping you achieve the healthy smile you've always wanted.
Dr. Kim strongly believes in continuing his education, always making sure to take time off to attend lectures pertaining to all aspects of dentistry. He has received advanced training in dental implants, Six Month Smiles® short-term braces, ClearCorrect™ clear braces, and advanced general dentistry techniques. In addition, he is a member of the American Dental Association and California Dental Association.
Dr. Kim and his staff are dedicated to providing quality care and dental services in a comfortable and safe atmosphere. They place emphasis on patient trust and honesty and strive to offer the best dental treatment option necessary for each patient that walks through their door.
Dr. Kim is married, and he and his wife, Liz, have three sons whom they love spending time with. When he isn't working to improve your smile, Dr. Kim enjoys golf, sports, and mountain biking.